[Taipei, Taiwan] We are happy to announce details for the APAC open qualifiers are now available. First qualifier will happen on 28th of June, while the second qualifier will be ran on 5th of July. These will be a 128 man open tournaments with BO3's leading up to a BO5 in the semi's and finals.

APAC is China, Japan, Hong Kong ONLY!
The APAC qualifers DO NOT include Taiwan, Taiwanese qualifiers will be held by MSI. More information on Taiwanese qualifiers will be released towards the end of July.


Format/Schedule 16:00 CST (UTC+8)
16:00 : RO128 (BO3)
17:00 : RO64 (BO3)
18:00 : RO32 (BO3)
19:00 : RO16 (BO3)
20:00 : RO8 (BO3)
21:00 : RO4 (BO5)
22:30 : Finals (BO5)

You need to be a resident of one of those countries to enter the qualifier. Games will be played on the TW/KR server. Tournament will start at 16:00 CST (UTC+8)

Before signing up please make sure to read the tournament rules : http://msibeatit.com/sc2-rules-1
You can SIGN UP Qualifier #1 for the tournament here : http://msibeatit.com/tournaments/starcraft-2-apac-qualifier-1/
You can SIGN UP Qualifier #2 for the tournament here : http://msibeatit.com/tournaments/starcraft-2-apac-qualifier-2/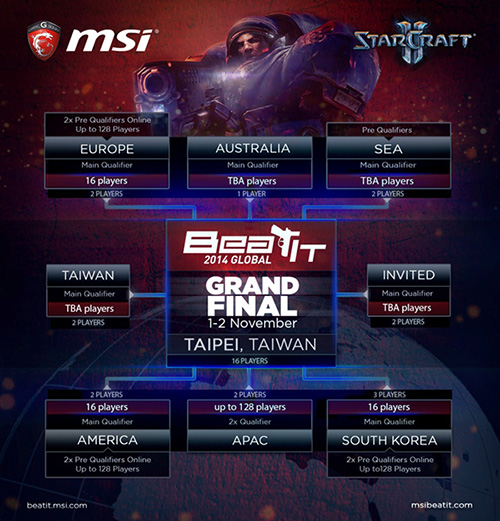 For the MSI Beat IT 2014, $115,500 in Prizepool and travel support is available for the Global StarCraft 2 tournament and the Dota 2 Competition. As in the previous MSI Beat It, we will host several Qualifiers for each region to determine the best players and teams. More information regarding the qualifiers can be found below. The best teams of each season will then compete in the Grand Finals which will be held in Taipei, Taiwan.

For the StarCraft 2 Tournament, there will be six qualifiers for the following regions: Europe, USA, APAC, South Korea, SEA, Taiwan and Australia. These qualifers are, depending on the region, split into a Pre qualifer and a Main qualifer where up to 64 players can take part. Finally the best 16 players will compete in Taiwan in the Grand Finals. The Prizepool for the StarCraft 2 tournament is $28,000.

MSI website: http://beatit.msi.com/
MSI Facebook: https://www.facebook.com/MSIHQFANCLUB
Event videos: http://youtu.be/Q_7CPDTiJtc
About MSI Gaming products: http://gaming.msi.com